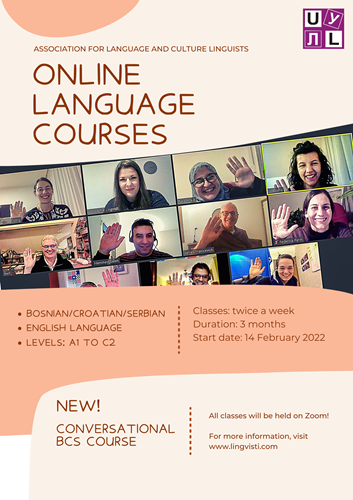 Association for Language and Culture 'Linguists' isn't just a language school. We are a collective of people who uphold the same values in their life and work: we believe in the power of friendship and solidarity, in the healing power of laughter and understanding, but most of all - in compassion. Compassion is one of the two cornerstones of our teaching philosophy and vision. Whenever we step into a classroom we are fully aware that we are encountering not clients, but human beings, with rich and complicated lives, with their own desires and fears, human beings who feel vulnerable and insecure when trying to acquire a foreign language. The learning process starts by recognising the humanity in each of our students.
Learning a foreign language is no easy task and it doesn't happen overnight. It requires time and effort. Precisely for that reason, the second cornerstone of our teaching philosophy and vision is: passion. We passionately love what we do and we're not causal about it. We never go into a classroom distracted, moody or tired. You have the right to feel despondent, we don't. You have the right to feel frustrated, we don't. Our job is to provide boundless patience and support. 
Each level lasts three months (12 weeks), with 48 classes altogether (4 classes a week).
Course start date: February 14, 2022
Courses are held twice a week (in 1.5-hour sessions) online on Zoom platform.
Students are divided into groups of up to eight people.
Classes are held in the following time slots: 12:00 - 1:30 p.m. and 6:00 - 7:30 p.m.
Teaching materials
 We use:
interesting textbooks and workbooks (Cutting Edge, Third Edition from 2013) and additional material in accordance with the CEF (Common European Framework)


the internet, magazines, dictionaries, grammar books, novels, short story collections, poetry, audio and video materials... We seek knowledge in everything!
Price and payment
The price for the course is BAM 351 (VAT included). You can also pay the fee in monthly installments of BAM 117.
 Discounts
 10% for members
 15% for a partner attending the same course
10% for applicants who have already attended two courses at Lingvisti 
Applying for the course
After filling out the form you will receive an e-mail with course details (the schedule and the time of the classes). If you are not attending the beginner's course, you will need to do a placement test (free of charge) so we can assign you to the appropriate group.
 You can also apply by filling out the entry form in person at our premises.
---
Submit the application
Teachers