A City for Who?
BCS Summer School Program - 2018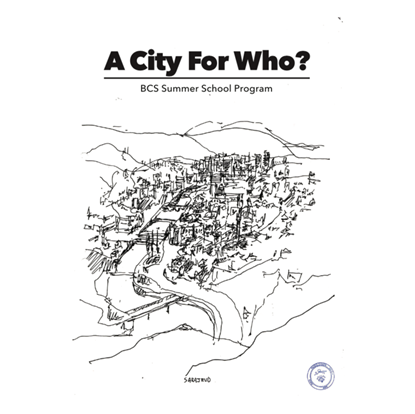 We designed this year's Summer School Cultural Program with the intention of answering one of the most important questions facing us today: what makes a city? And for who is a city made?
Over the last decade or so, Sarajevo has undergone a radical transformation that is hailed as a success by the ruling political elites and the mainstream media, both in BiH and abroad. The city celebrates its new identity as a go-to tourist destination and a haven for dubious foreign investments. Coupled with a new phase of privatization targeting public services (and public spaces), this development is turning Sarajevo into a city that exists to cater to the demands of globetrotters and backpackers, while the quality of life of its citizens decreases rapidly.
Can a city be a home to a community if all its spaces are closed off, privatized and commercialized? And if it is not home to a community, can it still be called a city? How can we fight against the radical reconfiguration of the physical scenography of our lives that seeks to suppress our collective memory?
We will try to answer these questions both theoretically and practically. The entire program is designed with the idea of giving you an opportunity to get to know Sarajevo corporeally, by leaving a tangible trace on the city's fabric. We also wanted our program to function as an alternative city guide: instead of the usual city tour, we will offer you an activist's guide through Sarajevo. You will hear from people who are fighting to preserve the notion of community and remind their governments, as well as their fellow citizens, that a heap of buildings and a network of roads cannot pertain to be a city; that a city, a space, becomes alive only when touched by our collective humanity.
Monday, 16 July
What: The Most Unceremonious Opening Ceremony
When: 18:00
Where: Kutcha Concept Store
While you're in Sarajevo, Kutcha will probably be your go-to place for contemporary art and design coming from Bosnia. We have some wonderful friends there who have agreed to let us hold our annual Summer School Opening Ceremony in their equally wonderful garden. We don't care much for formalities, so you can expect a relaxed atmosphere, a semi-boring introduction, a cocktail and plenty of time to get to know your fellow classmates and teachers.
Tuesday, 17 July
What: An Honest Day's Worth of Work with Dobre Kote
When: 17:30
Where: Kota Grbavica
The word kota can mean many things. In geography kota refers to elevation, in war it is a site of conflict, and in colloquial speech kota is the perfect little nook for all sorts of clandestine activities. Dobre kote is a group of tireless volunteers whose mission is to revitalize public, community spaces all around Sarajevo. Their motto is simple: if we, the citizens, do not claim public space and actively promote its significance, the authorities sure as hell aren't going to do it. Dobre kote identify the neglected, unused kote in the city, mobilize the local community and provide a channel for engagement through group work actions. Aldijana Okerić, an activists and a member of Dobre Kote, will talk to us about the movement at a kota on Grbavica (a neigbourhood in Sarajevo). After her introduction, you will get down to work on cleaning up the kota and making it look even better.
Wednesday, 18 July
What: Street Art and Graffiti Workshop
When: 18:00
Where: Graffiti Museum on Gorica
The workshop on street art and graffiti takes place in its natural habitat: the Gorica Graffiti Museum. After a tour of the impromptu museum and a brief lecture on the development of street art and its techniques, the rest of the session will be dedicated to trying out you've learned together with Benjamin Čengić. Benjamin isone of the most prominent and prolific graffiti artists in Sarajevo. He was born in 1993, while Sarajevo was under siege. Growing up amidst rubble and abandoned buildings, he developed a habit of using graffiti as a way to make his surrounding look more appealing. Benjamin is the founder of "Obojena klapa", an NGO that focuses on promoting street art and audio-video production.
Thursday, 19 July
What: Vahida Maglajlić – Travelling Exhibition
When: 17:30
Where: Lingvisti
Vahida Maglajlić was a People's Hero of Yugoslavia, a feminist and freedom fighter, a woman who gave up on a comfortable, upper-class life and dedicated all her energy to the anti-fascist movement. Today, she has been largely forgotten in mainstream culture and education. In 2017, artists Enes Kurtović and Arijana Forić-Kurtović staged an illegal, guerrilla exhibition on the life and work of Vahida Maglajlić at Vraca – a neglected, run-down memorial site for WWII victims. Enes and Arijana will talk to us about their artistic intervention, the relationship of art to public space and memory, and the role of today's artists and freedom fighters.
Friday, 20 July
What: Loesje creative writing workshop
When: 17:30
Where: Lingvisti
*For B2 and C1 students, but we encourage others to join as well 
Loesje is an international organisation originally founded in the Netherlands in 1983. Since then it has spread around the world and in 2009 it came to BiH as well. Local Loesje groups hold workshops where they write and spread posters with texts about social and political issues. Loesje texts are mostly positive and funny, but at the same time critical.
We introduced this workshop last year and the results were very inspiring. We're hoping for a repeat!
Saturday, 21 July
What: Day Trip
When: 7:00 am (Are we crazy, you wonder? The answer is yes.)
Where: Banja Luka
We are packing up and travelling north to Banja Luka – a city on the beautiful river of Vrbas. While we are there, we will stop by to chat with our friends from the Banja Luka Social Centre – BASOC. Like their Sarajevan counterparts, the people of BASOC will give us an activist's guide through Banja Luka. We will also visit the Kastel fortress and the Ferhadija Mosque. We're hoping the people of BASOC will give us a tip on where to go for a quick dip in the Vrbas River. Bring your swimsuits!
We leave at 7:00 am not because we want to torture you, but because BiH is not exactly a country of highways, and getting to places by bus takes time. There is a flip side to it, though. Travelling by bus is the best way to get to know the country. Bosnia and Herzegovina may be a catastrophe, but it is a beautiful catastrophe, and the bus ride through the canyon of Vrbas is breathtakingly gorgeous. It alone is worth the trip. 
We're hoping to depart from Banja Luka at 4:30 pm and arrive in Sarajevo at 9:00 pm.
Monday, 23 July
What: Film Screening
When: 17:30
Where: Lingvisti
A screening of a domestic film in BCS.
Tuesday, 24 July
What: Cyrillic Script Workshop
When: 17:30
Where: Lingvisti
We do this every year: one of our teachers Jakov gathers his disciples (the disciples being you) and introduces them to the secrets and mysteries of the Cyrillic script. After that, they are all able to go to Belgrade and find ракија on the menu.
We also stick to this workshop because teaching people the Cyrillic script in Sarajevo has become a "controversial" issue in recent years. It pisses off the nationalists and we think that's always a good thing.
Wednesday, 25 July
What: Lecture on the Jewish community in Sarajevo
When: 17:30
Where: Lingvisti
You may not notice it, because modern-day Sarajevo does a good job of denying it, but the Jewish community has played an integral role in the history of both Sarajevo and Bosnia and Herzegovina. Together with Eli Tauber, a historian, a genocide researcher and one of the most prominent members of the Sarajevan Jewish community, we will take a trip down memory lane, and investigate how the Sarajevan Jews helped shape the history and geography of Sarajevo.
Thursday, 26 July
What: Privatization and Mass Resistance
When: 17:30
Where: Lingvisti
Our second key-note speaker, Svjetlana Nedimović, will sum up our whole program and provide a theoretical and political framework for everything we've heard and learned during the two weeks of Summer School. Her lecture will focus on privatization in Bosnia and Herzegovina, which has been carried out in several waves since the wartime (1994) when common, socially owned property was transformed into state property. Following the standard privatization scheme, state property was then sold to corporations. The process was promoted, encouraged and supported by international organizations and institutions that linked postwar reconstruction donations to systematic privatization.
The last two decades have been marked by corporate privatization carried out with the sole aim of abandoning industrial privatization and turning factory sites into construction sites. In the past 5 years or so, we have witnessed the expansion of privatization into areas of health care, education, public infrastructure, natural resources and, unlike previously, this new wave of privatization has generated mass mobilizations and civic resistance. The space of everyday collective life has once again become space of politics after years of postwar and transition political numbness of society.
Our speaker, Svjetlana Nedimović, lives and works in Sarajevo, where she was born, in a time that appeared to be an unforgivably boring slice of history to children reared on stories about the liberation movement. She caught the political bug in elementary school, when she skipped classes so she could follow sessions of Yugoslavia's disintegrating institutions. She unsuccessfully plotted a life of a librarian, but ended up with a PhD in political sciences because she wanted to untangle the mysteries of the eighties and nineties in the region. She did her PhD on the topic of Imagination and Political Action in H. Arendt's works at the European University Institute in Florence in 2007. 
Svjetlana has taught political theory and philosophy at the Sarajevo School of Science and Technology where she coordinated the founding of the Department for Political Science and International Relations, at the same time drafting a curriculum for the same department.
Within the research project at the University in Barcelona Trajectories of Modernity, Svjetlana deals with researching the roles of political imagination and oral histories in the process of conflict transformation within societies.
She is involved in Jedan grad, jedna borba – an informal group of political activists
Svjetlana's works have been published in various BiH online and other domestic and international publications.
Friday, 27 July
What: Farewell
When: Whenever you finish the pesky exam
Where: Lingvisti
It's the day you finally get rid us. We will hand out the diplomas and then invite you to an as-of-yet-unidentified pub for congratulatory drinks.
You can save this program in PDF. (We have printed it out for you. You'll receive it first day of classes.)